The Huawei Mate 20 series of flagship phones are all set to get unveiled in the coming week. Last year's Kirin 970 SoC by Huawei that powered the Mate 10 and Mate 10 Pro smartphones was able to compete with rival phones driven by Snapdragon 845. Hence, there is a lot of expectations from the 7nm Kirin 980 chipset that will be fueling the Mate 20 and Mate 20 Pro. Today, the Mate 20 Pro smartphone that has a model number of LYA-L29 has surfaced on AnTuTu benchmarking platform to reveal its performance prowess.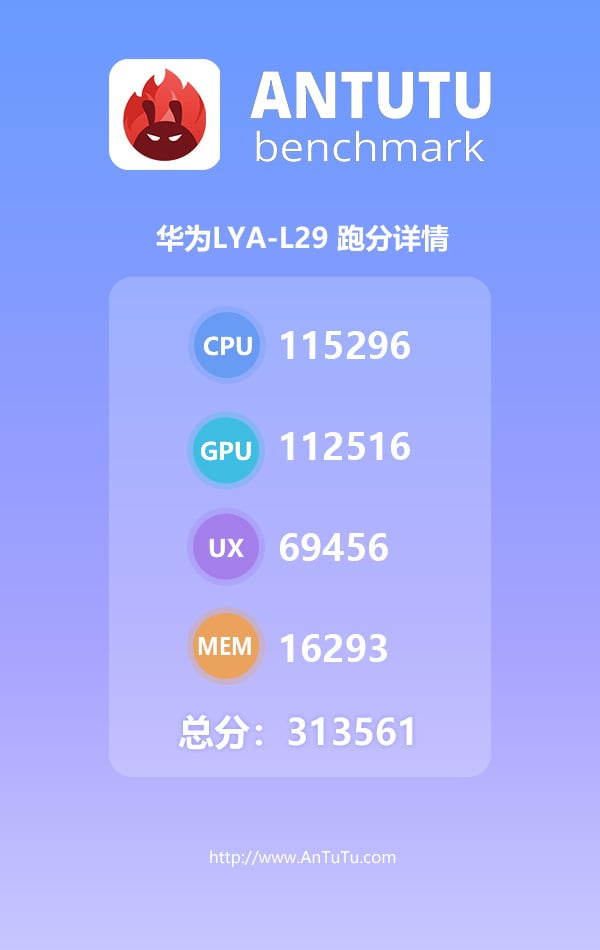 Pending the official presentation scheduled for mid-October, the smartphone is displayed periodically in the benchmarks and gives an idea of ​​its capabilities.
Gizchina News of the week
On AnTuTu, the Huawei Mate 20 Pro has been tested with 6GB RAM and 128GB storage. The mobile device has a very strong score of more than 313,000 points, confirming the progress compared to the 280,000 points of smartphones under Snapdragon 845 and especially the 210,000 points of the Kirin 970 the previous generation.
The Mate 20 Pro surpasses the OnePlus 6 (265947), the HTC U12 Plus (257766), the Sony Xperia XZ3 (291252), the Xiaomi Mi Mix 2S (268329) and the Galaxy Note 9 (238015).
The Huawei Mate 20 Pro is therefore the most powerful Android smartphone of the year. The flagship is not again as much powerful as the iPhone XS Max, which has 344089 on AnTuTu with its A12 Bionic. The same goes for Geekbench, where the iPhone XS is faster and more powerful than the Mate 20 Pro.