Despite its slogan, OnePlus has settled the launch date of the OnePlus 8 series for April 14. Now that the arrival of the smartphones isn't a secret, the Chinese company can start its usual campaign of teasers to keep the hype alive until the launch date. Today, the company's CEO and co-founder Pete Lau talked in the company's community forum that the R&D team made several improvements in the hardware coming with the OnePlus 8 devices.
First of all, he confirms the presence of a Snapdragon 865 SOC. It's not a surprise, after all, this chip will be used in every new flagship coming this year. According to him, the chip will offer a 25% increase in performance in comparison with the last year's models. It also delivers a more power-efficient video encoder and DSP.
The new chipset is paired with the new and faster LPDDR5 RAM standard. It's also being used in some new flagship devices like Samsung S20 series and other gaming phones. It's great to see that OnePlus isn't saving money with the hardware of its premium devices. For instance, it will feel like a great upgrade over the OnePlus 7T Pro and older OnePlus devices featuring the LPDDR4 standard.
One last detail confirms the presence of a UFS 3.0 storage. It's not something new since it was also present in the 7 and 7T series. This time, however, the company promises read speeds of 1,700MB/s and two new software features to improve performance. The first is dubbed Turbo Write and uses the upper portion of the storage as a fast read/write buffer. The second feature carries the Host Performance Booster moniker and will improve the overall read performance after long usage.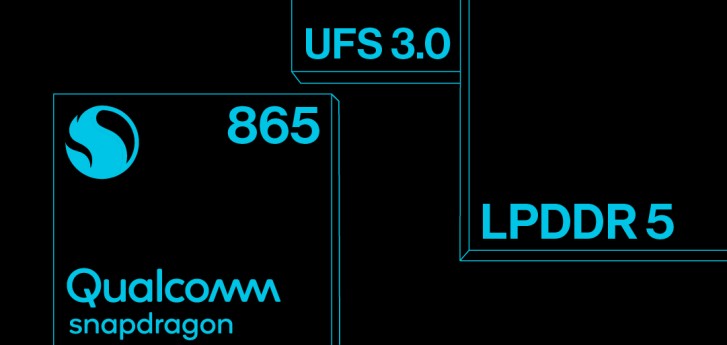 OnePlus 8: Snapdragon 865, LPDDR5 RAM and UFS 3.0 storage, but that's not everything
All this talk is much about hardware and very technical at some points. Based on this, the CEO states that hardware along isn't everything to make the OnePlus 8 series stand against the competition. The software inside will also play an important part. According to him, the OxygenOS was adjusted to the new smartphone and will bring "features that really matter for you". We believe that this is a good teaser about new features for OnePlus software. Perhaps, we'll see the rise of OxygenOS 10.1 with the new smartphones.
The OnePlus 8 and 8 Pro will go official on April 14. However, the Chinese market will get a late release on April 16. There's a third variant, now known as OnePlus Z, however, we have no clues when the company will take the wraps off it.