Facebook's Messenger is probably the most unconventional messaging platform. After all, it is integrated with Facebook but also looks like a completely separate social media. Now the company is providing an update for the children-oriented Facebook Messenger Kids app. Interestingly enough, this separate platform was released back in 2018. However, it is getting one of its biggest updates now in 2020. It is what the name suggests an IM app that is kid-friendly. Based on this, it improves parental oversight and delivers more security for children. Unfortunately, the platform has been available only in the US. Now, however, Facebook is expanding its availability to several new countries as well as it is bringing new features.
Supervised Friending
This particular feature replaces the current setup where kids cannot add any new contacts, only allowing parents to do so. Interestingly enough, the new feature allows kids to issue and accept contact invitations. However, once they perform any of these actions, a notification will promptly reach their parent allowing them to override a decision.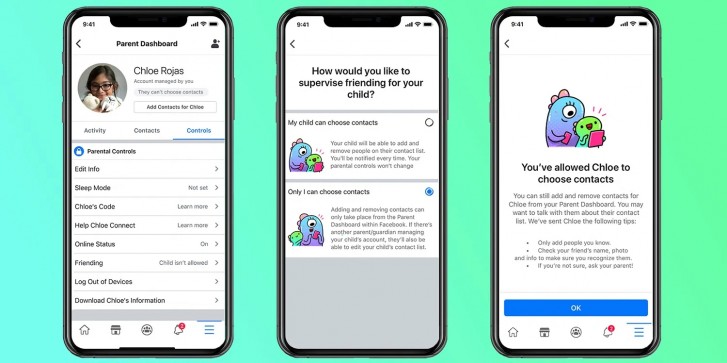 Easier Connections
This feature allows parents to make the child's name and photo visible only to a select group of non-contacts.
Approved Adults
With this feature, the parent can determine which adults can add their children into groups. The focus here is to allow teachers to gather children in virtual places. That's a feature that probably will be quite useful in times of lockdown. It also works for non-curricular activities. You determine which contacts are trustable.
"Kids often build community through their classes at school, participating in a team sport or other extracurricular activities. Just as parents allow a teacher or coach to help their child navigate classroom or team friendships, this new feature gives parents the choice to approve a similar adult to help connect their child with other kids through a group in Messenger Kids. These approved adults can only connect kids whose parents have also granted this adult the same approval. This feature will be available starting today in the US, and will gradually roll out to the rest of the world. Therefore, teachers, coaches, parents, and other leaders can access this feature…"
Unfortunately, the new features are exclusive to the United States but will be rolling out gradually in Latin America and Canada. You can check the list with all markets getting support for the app below.
Gizchina News of the week
Facebook Messenger Kids available in:
Afghanistan

Antigua and Barbuda

Argentina

Australia

Bahamas

Bangladesh

Barbados

Belize

Bhutan

Bolivia

Brazil

Brunei

Cambodia

Canada

Chile

Christmas Island

Cocos Islands

Colombia

Cook Islands

Costa Rica

Cuba

Dominica

Dominican Republic

Ecuador

El Salvador

Fiji

Grenada

Guatemala

Guyana

Haiti

Honduras

India

Indonesia

Jamaica

Japan

Kiribati

Laos

Macau

Malaysia

Maldives

Marshall Islands

Mexico

Micronesia

Mongolia

Myanmar

Nauru

Nepal

New Zealand

Nicaragua

Niue

Norfolk Island

Northern Mariana Islands

Pakistan

Palau

Panama

Papua New Guinea

Paraguay

Peru

Puerto Rico

Samoa

Singapore

Soloman Islands

Sri Lanka

St Kitts & Nevis

St Lucia

Vincent and the Grenadines

Suriname

Taiwan

Thailand

Timor-Leste

Tokelau

Tonga

Trinidad and Tobago

Tuvalu

United States

Uruguay

Venezuela

Vietnam

Virgin Islands