LG may not be one of the most appealing smartphone makers nowadays, but the company still has a wide range of smart products and home appliances. Its Display division is among the industry leaders. Today, the company unveiled a new Ultra-High-Definition Monitor with Model Number 32UN650-W. The monitor features a 31.5-inch LG IPS display panel and a 4K UHD resolution with 3,840 x 2,160 pixels in total. Moreover, the panel brings up to 95% wide color gamut, 1.07 billion colors, and HDR10 support.
In terms of gaming, this monitor offers support for AMD FreeSync. Moreover, it has a response time of 5 ms (GTG) this way you will not feel that distracting input lag. The panel is quite bright with a maximum brightness of 350 nits. It also has a 1000:1 static contrast ratio. The display comes with anti-blue light a very convenient feature. In terms of interfaces, this monitor uses a Display Port 1.2a and HDMI interfaces. Another interesting detail is that offers built-in 5-watt stereo speakers. The build offers a swivel standard and a C-shape base. The height of this stand is also extendable so you can easily adjust it to match your preferences.
Gizchina News of the week
Unfortunately, we still don't have important details of the new display. LG is yet to reveal the actual price of the UHD monitor. However, the company did hint that it will go on sale in the last week of August 2020. So, we'll probably have the price by the next few days.
LG has just started a new #LGComeHomeChallenge
Apart from the new monitor and LG K31 smartphone, the company also started a new campaign today on its social media. The company is encouraging fans to take up the $LGComeHomeChallenge by creating video clips expressing why home is special to them. After recording the video, you'll need to post it on Instagram or Facebook and use the campaign's hashtag. The digital campaign kicks off with a video that highlights the joy of family and life made better with LG's advanced home appliances. This obviously is a fun way to deal with the ongoing pandemic.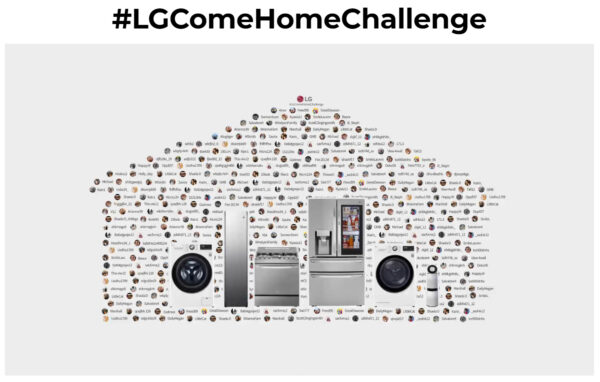 #LGComeHomeChallenge invites consumers to create and share short videos that show what home means to them. Videos should show scenes from participants' lives that best define what home and family means to them – eating together, playing together, laughing together, and etc. There is a special AR Instagram filter created for the campaign that adds more personalization to every upload.
LG will make a donation of USD 300,000 to Habitat for Humanity Korea, with plans to donate home appliances to furnish newly built homes. The appliances will be installed in new homes being built in India, Kenya, and Vietnam to create safe havens for the neediest families.