A few days ago, Redmi released its latest generation of Redmi K40 smartphones. However, many people may only pay attention to the allure of the 'ultimate cost-effectiveness' of the series. But we should recall that the Redmi K40 Pro+ is one of the best flagships on the market. It not only looks quite outstanding but also brings new shooting functions.
Also Read: Redmi K40 Pro+ FAQ – Get Answers To All Your Questions
So let's get acquainted with the camera of the Redmi K40 Pro+ and understand how it performs. This phone uses the Samsung HM2 as the main sensor. It has up to 12,000 * 9000 resolution. So each photo has way more image information than that of a normal camera. It has 1/1.52-inch outsole, and the use of 9-in-1 fusion technology. Thus, the amount of light in the shooting is very considerable.
One of its sub-camera sensors is an 8-megapixel ultra-wide-angle lens. And if it is not outstanding, the other sub-camera still needs some praises. We mean the 5-megapixel telephoto macro lens. It not only has the ability of telephoto shooting but also has the interesting new gameplay of macro shooting.
On the front, the entire Redmi K40 series carries a 20-megapixel ultra-micro front camera. Why is it called an ultra-micro? The reason is the ultra-small hole it is placed in. this sensor supports AI ​​natural beauty function, and can perform multiple adjustments to facial details.
1.      The advantages of outsole main camera
In this sample, we have a photo taken under daily light. The outsole sensor's 100MP resolution makes it possible to show every detail of this snowy peak scene, the details of the clouds, the details of the shadows of the bridges, and even the peaks. The details of the outline are vivid.
2.      Super wide-angle shooting
The manufacturer does not have much explanation for Redmi K40 Pro+'s 8MP ultra-wide-angle sub-camera. But it is still capable of capturing amazing photos in combination with the 100MP main camera and due to up to the 130-degree ultra-wide angle. But we should admit 8MP is a bit insufficient.
3.      The ability of telephoto and macro shooting
Is it difficult for ordinary people to use their smartphone camera to shoot things as if they were observed under a microscope? It's hard! To be more professional, you need to have a super macro lens to get closer shots. But one of the sub-cameras of the Redmi K40 Pro+ is a 5-megapixel telephoto lens.
Gizchina News of the week
To be fair, Redmi has actually put this well-tuned camera sensor on other models in the past year or two. Why? On the one hand, it performed well. On the other hand, this is the part that its rivals have ignored. Therefore, Redmi cleverly seized this 'gap' to improve the experience for users who like mobile photography.
4.      Night scene shooting
It's not easy to shoot good photos in complex light conditions. What if you need to shoot a portrait in low-light environment? It will be a very hard task. The camera must have an outsole sensor to increase the amount of light, and it must have excellent resolution. Fortunately, the Redmi K40 Pro+ does! Judging from the sample shots, the shooting under complex light is not blurred, the color and white balance is restored in place, and the hair of the characters is also clearly captured.
5.      Portrait shooting
The Redmi K40 Pro+ has a 20-megapixel front camera. Judging from the selfie of the model, the hair details of the portrait are naturally blurred, the clothing of almost the same color is also photographed clearly, and the model's facial skin is natural.
6.      AI special effects video
Video shooting has always been a hot spot pursued by all major manufacturers in recent years, and Xiaomi is no exception. But Redmi's flagship series hasn't supported this function. The Redmi K40 Pro+ fixed this. AI special effects video is quite interesting. It is a way to add special effects to the video in real time through the AI ​​function.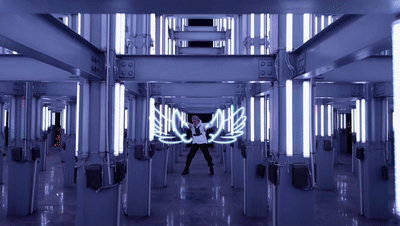 7.      Freeze-frame clone mode
In fact, slow-motion video shooting is not anything new. But Xiaomi has 'simplified' this function, which makes it possible for users to use Redmi K40 Pro+ to shoot more interesting videos.
8.      'Time stands still' shooting
Such a video shooting function is also one of the functions that Xiaomi has only implemented on its smartphones in recent years. It is similar to the freeze-frame function when we edit videos. You might be unaware of hot it's implemented on a professional equipment, but now It can be easily achieved with the Redmi K40 Pro+. It's pretty good to play, at least it can make your Vlog videos taller and more interesting than others.
Conclusion
Generally, the Redmi K40 Pro+ maximizes the ability of the 100-megapixel rear three-camera with HM2 CMOS. It has shown a good level of shooting from night scenes to wide-angle, from telephoto macro to portrait shooting. Basically, such a product can be used as a specialized shooting tool for most scenes.
Of course, according to my personal opinion, the Redmi K40 Pro+ is actually a top-notch camera phone that sells gimmicks. It has the HM2, an out-of-billion-pixel main camera sensor, and the other two sub-cameras are a little bit behind. Thus, the main camera sensor is good, but it is not perfect in terms of resolution. Although it is sufficient for daily use, if new users have not received professional training, or do not know how to shoot good pictures, do not use stabilizers, etc., it is not so easy to take good photos via this phone.