According to Business Insider, Google Europe, Middle East, and Africa (EMEA) president, Matt Brittin told employees that Google is watching the escalation of Russian military incursions into Eastern Europe. "Today, we are asking all employees currently in Ukraine to shelter in place and restrict all movement," Matt-Britting said.
Google and several other U.S. tech giants, including Oracle and Microsoft, have offices in Ukraine. It's unclear how many employees Google has there, but LinkedIn shows there are at least 200 full-time employees in the country. Google's security team has also contacted all employees in Ukraine directly, Brittin said. In addition, Google also has offices in Russia. Many Kiev residents began fleeing the city after Russian troops attacked the capital and several other cities.
While technology companies are trying to protect their staff, the governments of the world are getting set to deliver a decisive response. According to Russia's president, Vladimir Putin, Russia will respond swiftly if anyone attempts to interfere with its operation in Ukraine.
Gizchina News of the week
"In this regard, according to the Article 51, part of the United Nations Charter, with the consent of the Russian Federation Council, and in accordance of the ratified agreement on February 22, of this year on friendship and mutual aid with Donetsk People's Republic and Luhansk People's Republic, I decided to conduct a special military operation," he said.
"Its goal is the protection of people, who during eight, suffered from abuse and genocide from the Kyiv Regime.
"Whoever would stop us, and further create threats to our country, to our people, should know that Russia's response will be immediate and lead to such consequences that you have never faced in your history. We are ready for any outcome."
Russia plans to invade the whole of Ukraine
There are reports that Russia plans to invade the who of Ukraine. Thus, top technology firms like Google that have offices in Ukraine may have to halt operations in the region. However, in a Facebook post, Ukraine's Ministry of Defence urges citizens to resist. "We urge citizens to inform us of troop movements, to make Molotov cocktails, and neutralize the enemy,"
Furthermore, the U.K. defense secretary, Ben Wallace, said"Russian forces have likely captured the Chernobyl nuclear power plant. Workers have reportedly been detained by Russian troops…The Ukrainian Armed Forces have reportedly halted Russia's advance towards Chernihiv. Fighting probably continues on the outskirts of the city…It is unlikely that Russia has achieved its planned day one military objective…Ukrainian forces have presented fierce resistance across all axes of Russia's advance."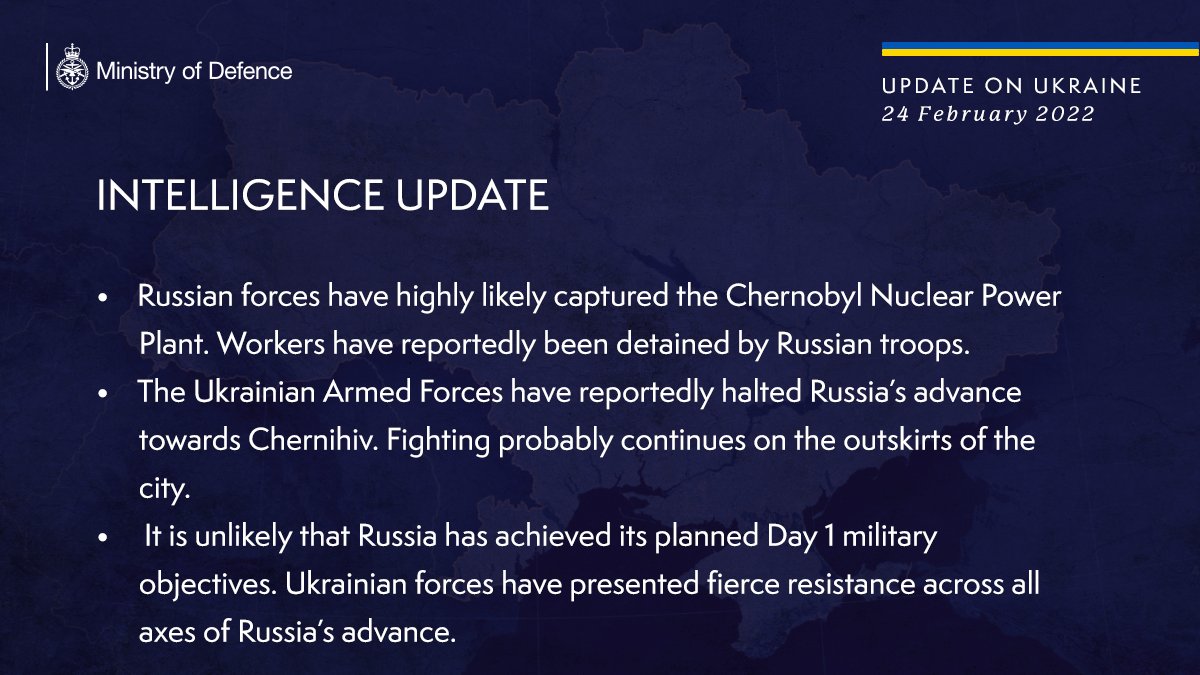 On his part, the president of Ukraine, Volodymyr Zelenskiy, has since asked the public to be ready to fight the war alone.