Many companies such as tech giants like Google, Microsoft, and Apple had to "rethink" their strategies in the light of COVID-19 pandemic. It makes sense for IT employees to work from remote locations via video conferencing and collaboration tools. However, workers from the non-IT companies and small and medium firms are the worst-hit in India.
Small companies are scrambling to get their act together as a new coronavirus threat has reached their premises. Therefore, they are being forced to send employees home who have age-old laptops, poor network, and connectivity. Most of these employees have little knowledge about how to handle group chat and collaboration software like Zoom and Microsoft Teams.
Instead of just halting operations, however, a business can choose to shift towards remote working methods with teaching non-IT staff on how to use the latest digital software to connect and work. The training will take some time and may affect productivity in the short-run. However, it's a win-win situation for non-tech companies in the long run. After all, it's impossible to state if the global emergency will arise or decline in the future.
According to a report from Gartner, 54% of HR leaders state that poor technology and/or infrastructure for remote working is the biggest barrier t effective remote working. Sandy Shen, Senior Director Analyst, Gartner, says that with COVID-19 disrupting the business landscape, CIOs should relook at the digital fulfillment of market demand.
Gizchina News of the week
"Videoconferencing, messaging, collaboration tools and document sharing are just a few examples of technologies that facilitate remote work. Additional bandwidth and network capacity may also be necessary, given the increasing number of users and volume of communications,".
The IT industry's apex body, Nasscom, asked the government to relax norms for a month. The networking giant Cisco says that the usage of its web conferencing and video-conferencing service is growing exponentially. According to Muneer Ahmad, Business Head, ViewSonic India, the new scenario is affecting the educational and corporate sector in the country.
Furthermore, the Co-Working sector has also taken a hit and the industry is looking at several measures to tackle it. According to the report, the sector will ensure the supply of juices rich in Vitamin C. It will elevate the supply of disinfectants as well.
"The scheduled visits of the clients at our co-working offices have been postponed. Few of our clients have cancelled their outstation meetings.  Now, they're starting audio/video conferencing for virtual meetings," said Nakul Mathur, MD, Avanta India.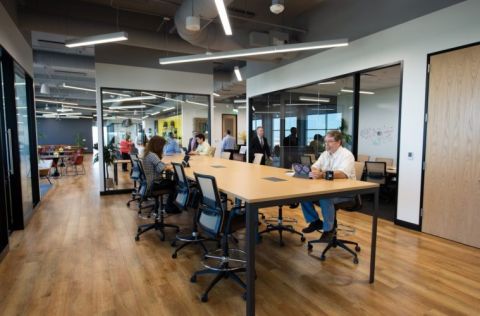 According to reports, India has approximately 1,000 co-working locations and is the second-largest market for the co-working industry after China. India's GST announced several measures to avoid COVID-19 from causing an economic decline in the country. Among these measures, they will elevate smartphone taxes.