Connected speakers and other devices that integrate Google's voice assistant can teach Google to recognize your voice using the Voice Match feature. The recognition will be significantly improved thanks to greater precision via artificial intelligence.
As we know, Google makes it easier to get personalized results from the assistant if you share several devices with other users. It is thus possible to associate your voice with a speaker or connected device integrating the service. Up to 6 voices can be assigned using the Voice Match function. This can be handy for having personalized results like suggested audio or video titles that suit you if you launch specific music and video services.
Now, we have the possibility to modify the sensitivity of the assistant's triggering with the famous "Ok, Google". The American giant is also tackling the optimization of the Voice Match function. Indeed, it should be able to identify more precisely the person who is speaking to it. This is possible thanks to an improvement in the recognition accuracy of artificial intelligence algorithms. For this, it will no longer be necessary to limit oneself to the recognition of "Ok, Google" as is currently the case. The assistant will ask you to say longer sentences such as: "Ok, Google, put my training playlist". Or "Ok, Google, where is the nearest post office".
Gizchina News of the week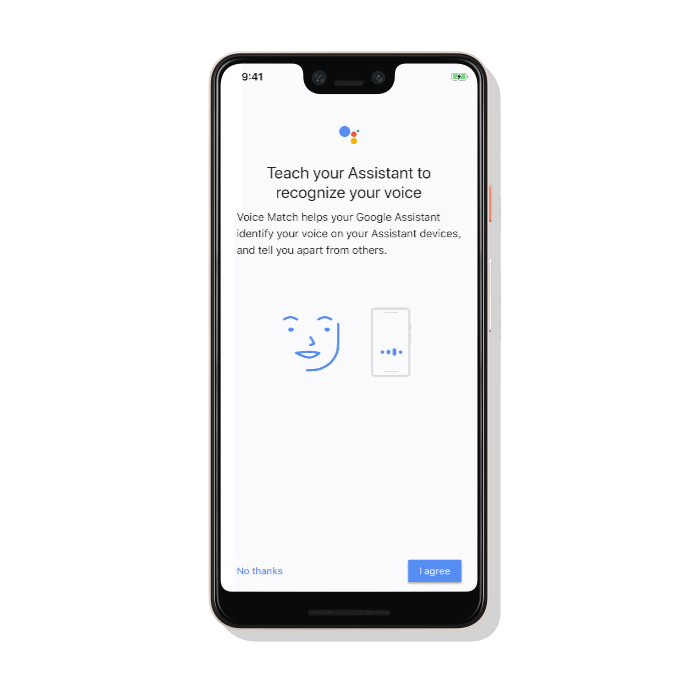 How to associate your voice?
To use the Voice Match feature of the Google Assistant, it is necessary to associate a Google Account with the connected device integrating the assistant. Then open the Google Home app on your smartphone or tablet. Tap the Settings wheel icon. In the Services section offered by the Google Assistant, click More Settings. Then tap on Assistant then Voice Match then Add devices. Then you just have to follow the instructions.
If you are not satisfied with the results, you can relearn the assistant to recognize your voice. Then click on the corresponding function in the Voice Match settings.