Smartphone displays have evolved a lot, starting from big bezels with 16:9 aspect ratio displays to a big notch display. From there we got smaller "tear-drop " notch, and then a tiny punch hole notched display. But the smartphone manufacturer companies want to get rid of the notch and provide notch-free experience. We also had seen pop-up camera smartphones in 2019, but since it has low reliability it didn't go that popular.  But now a report shows a Xiaomi's under-display camera smartphone.
Hence, companies have only one option left to provide its users with the best display experience. That is implementing an under-display camera. In 2019, Xiaomi first showcased its prototype smartphones with under-display cameras. Other brands like Oppo, also showed their prototype device in 2019. But the under-display camera failed to have a good quality image. The dense pixels on the display blocks the light for the under-display camera that results in darker images.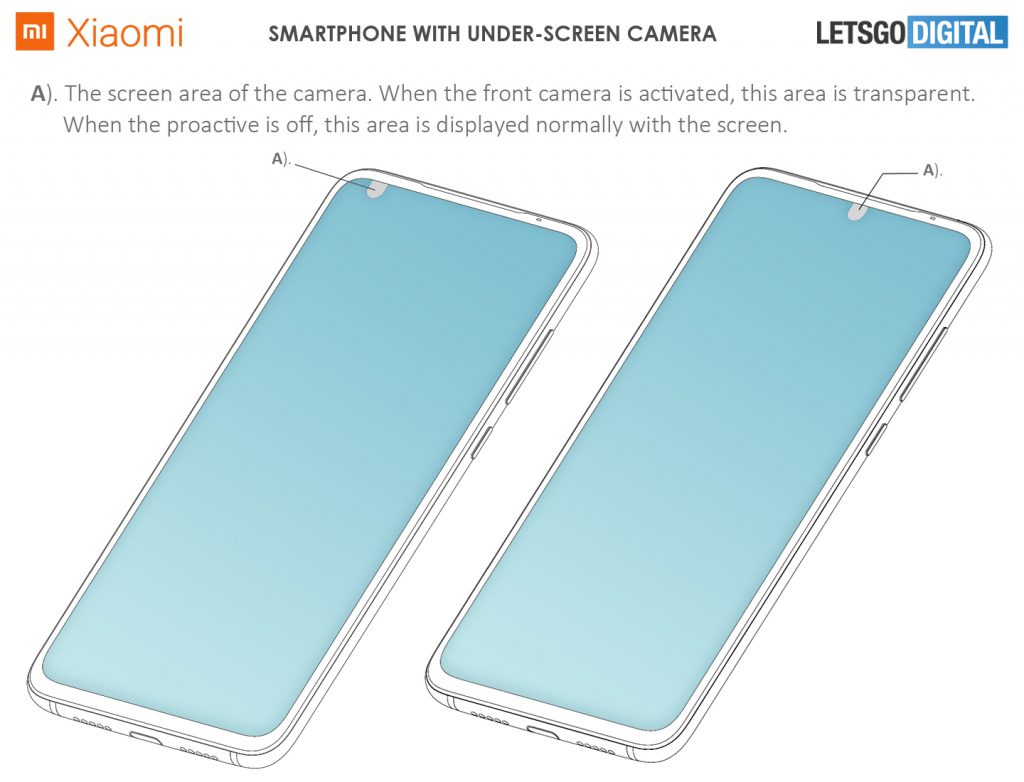 From a new report of LetsGoDigital, we have received renders on a Xiaomi prototype with under-display camera tech. There are two different placements of the camera: in the middle or the top left corner. The description of the Xiaomi's prototype says that whenever the front camera is activated, the area of the front camera gets transparent. And once the image is taken, it gets back to normal, screen pixels are back and you can enjoy a full view display without any notch.
Gizchina News of the week
Are You Ready To Experience A Notch-Killer SmartphoneWith Under-Display Camera?
Although, this image was filled by Xiaomi back in April 2019 and was recently published online. The prototype smartphone resembles Xiaomi Mi 9, the Xiaomi's flagship of 2019. There is a notch-free display, a clean look with rounded edges, and minimal chin. I have hope that the next flagship of Xiaomi might bring this technology. We will finally get rid of all kind of notches. And as usual, Xiaomi won't disappoint its users and will bring this tech in an affordable price tag as well.
Also Read: Xiaomi Mi 10 Youth Edition Pricing