One week ago, Apple revealed a set of good news for all enthusiasts and users of its devices and ecosystems. Among the news, the company revealed iOS 14 in all its glory as well as its iPad counterpart in the form of iPadOS. The company also revealed a new tvOS update, new macOS Big Sur software update, and finally watchOS 7. Each software brought a set of good new features for corresponding devices, but watchOS 7 represents one of the biggest updates for fans of Apple smartwatch series.
The watchOS 7 update brings a set of new features including personalization options driven by a set of custom watchfaces. Moreover, the OS includes new health-centric apps, fitness app, and for the first time in Apple Watch, a sleep tracker! The company also revealed a new feature dubbed hand-washing detector. This feature is particularly important in these days of COVID-19 when we need to develop a habit of washing our hands to prevent the virus from spreading through contact. Apple's timing from bringing this feature is quite remarkable, but according to recent reports, the hand-washing detection function is something that has been in the company's plans for quite some time.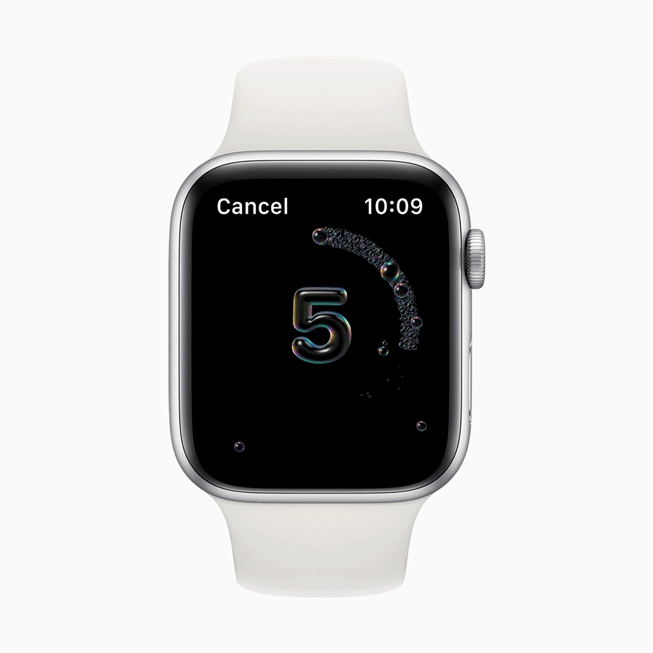 Gizchina News of the week
According to Apple's vice-president of technology, Kevin Lynch, this feature is "the result of years of research and development". It is reported that when Apple Watch detects that the user is washing hands, it will automatically start a 20-second countdown timer, encouraging users to wash enough time. The wearable makes use of the accelerometer to detect hand-washing movements. It also uses the microphone to monitor the sound of the water flow. The feature even detects the would of squeezing soap. The function will be triggered once that all these conditions are met at the same time. Apple achieved this through a series of machine learning models.
The timing is perfect, but we can conclude that Apple always put new features through a long period of research, development, and polishing. Therefore, it doesn't release new features in a hasty manner.
ADDITIONAL WATCHES 7 FEATURES:
For optimal convenience, while biking, cycling directions are available right on the wrist.
Customers can now use Siri to translate many languages conveniently from the wrist. The feature uses Apple Neural Engine for faster and more reliable processing when dictating messages. Moreover, the Apple Watch now supports Announce Messages with Siri.
Developers can create graphic complications with SwiftUI, and new developer tools such as Xcode Previews.
New Mobility Metrics available in the Health app include low-range cardio fitness. It can also read walking speed as well as stair-descent speed, and many others.
For a complete guide on watchOS 7 features just check this link.