Last week, Samsung announced Galaxy devices for the next phase of its One UI 3.0 beta program. The program's next phase will include numerous devices, including the Galaxy S10 series, Note 10 duo, and foldable devices. Soon after announcing the list, the chaebol started rolling out the One UI 3.0 based Android 11 beta update to the Galaxy Note 10 duo. While everything went smoothly for the first phase, it looks like the South Korean giant is now planning to delay the One UI 3.0 beta for the Galaxy S10 series and more devices.
One UI 3.0 beta program is now delayed for the Galaxy S10 series and other devices!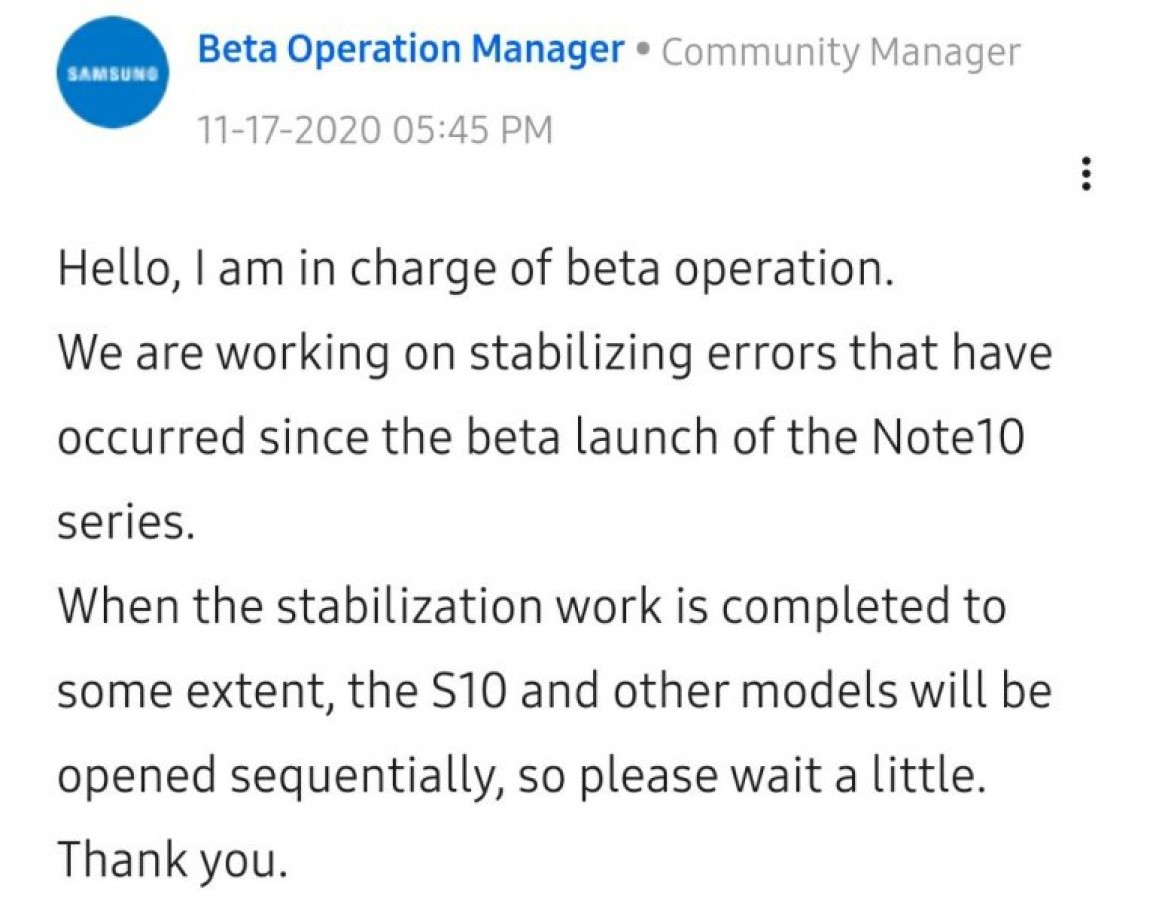 According to various beta testers, the Galaxy Note 10 lineup on OneUI 3.0 beta update is experiencing excessive battery drain issues. Keeping that in mind, Samsung is reportedly delaying the One UI 3.0 update for the Galaxy S10 series. This information is coming straight from Samsung's South Korean forum and is confirmed by a Samsung Beta Software Operations Manager. Samsung wants to first work on the errors and bugs that have been reported by testers for Galaxy Note 10 lineup. After stabilizing errors, the company will then resume the beta rollout for the rest of the devices in the pipeline.
Gizchina News of the week
The new decision of delaying the beta program will affect the below-mentioned devices:
Galaxy S10, S10+ and S10e
Note 10 and Note 10+
Galaxy Z Flip, Z Fold 2
This means that Galaxy Note 10 devices will no longer receive Beta updates until the critical issues get fixed. Apart from the battery drain, the users are also experiencing app crashes, S-Pen inconsistencies, and other various issues and errors. With that said, the devices under the first phase will continue to receive the beta patch updates. To recall, Samsung plans to rollout stable One UI 3.0 for Galaxy S20 series by the end of this year.
Samsung on overdrive when it comes to software updates!
So far, Samsung has managed to impress a lot of Galaxy fans when it comes to rolling out software updates. The company is aggressively pushing the beta program and seeding security patches in a timely manner to a plethora of devices. In fact, Samsung already packed in the December 2020 security patch with the recent beta update for the Galaxy S20. With that said, we're expecting Samsung to fix the battery drain and other critical issues soon. This will also resume the One UI 3.0 beta program for the Galaxy S10 series along with other devices.