According to reports from the Samsung Galaxy community, the Samsung Galaxy S10/Note10 series Android 11-based One Ul 3 internal beta is about to begin. The specific models include s10e, s10, S10+ and Galaxy Note10, 10+ (Unlocked device). As of now, there is no official announcement from Samsung regarding the internal test. We do not know the release tie for this update. However, it is coming really soon. If users want to participate in this test, they need to upgrade the "galaxy community" App to the latest version. If you use the old version to register, you will not be able to participate in the test.
In terms of function, OneUI 3.0 adds a double-click on the screen to turn off the screen feature. The camera interface can lock on a focus point and adjust the brightness at the same time. Also, the quick button in the notification bar is more convenient and reduces the user's setting steps.
In terms of UI design, the on-screen fingerprint recognition prompt icon of OneUI 3.0 is larger and more eye-catching. The volume icon has been moved to the side of the volume button and is no longer in the middle position. Also, this update comes with an AI subtitle display. No info however on whether there are changes in other features such as wireless powershare or wireless charging capabilities.
Gizchina News of the week
One UI 3.0 beta (Android 11) delayed for the Galaxy S10 series and other devices
Last week, Samsung announced Galaxy devices for the next phase of its One UI 3.0 beta program. The program's next phase will include numerous devices, including Android 11 for the Galaxy S10 series, Note 10 duo, and foldable devices. Soon after announcing the list, the chaebol started rolling out the One UI 3.0 based Android 11 beta update to the Galaxy Note 10 duo. While everything went smoothly for the first phase, it looks like the South Korean giant is now planning to delay the One UI 3.0 beta for the Galaxy S10 series and more devices.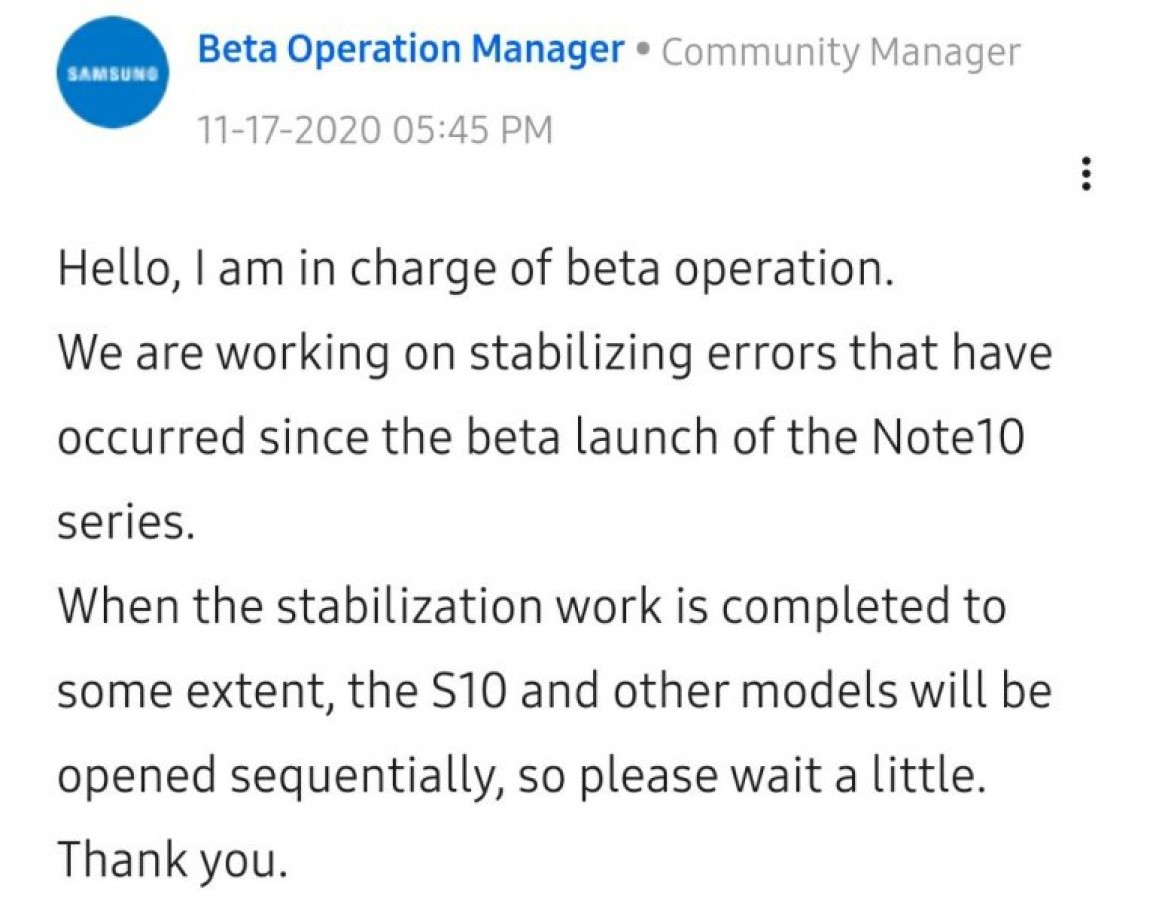 According to various beta testers, the Galaxy Note 10 lineup on OneUI 3.0 beta update is experiencing excessive battery drain issues. Keeping that in mind, Samsung is reportedly delaying the One UI 3.0 update for the Galaxy S10 series. This information is coming straight from Samsung's South Korean forum and is confirmed by a Samsung Beta Software Operations Manager. Samsung wants to first work on the errors and bugs that have been reported by testers for Galaxy Note 10 lineup. After stabilizing errors, the company will then resume the beta rollout for the rest of the devices in the pipeline.