In March, Oppo introduced the flagship smartphone Oppo Find X2, which is equipped with a 120Hz display and a Snapdragon 865 SoC. Now its successor – Oppo Find X3 – is being prepared for release.
The Oppo Find X3 Pro will have 25x zoom, 120Hz and Snapdragon 888
Following the presentation of the Snapdragon 888, Oppo has confirmed that the Oppo Find X3 Pro will be built on this platform, just like the Oppo Find X3. These smartphones are due to be presented in the first quarter of 2021, and now the famous insider Evan Blass has revealed the main characteristics of the Find X3 Pro.
Oppo Find X3 Pro is codenamed Fussi, and its screen will have 10-bit color support. Oppo previously confirmed that the smartphone will cover 100% of the DCI-P3 color gamut and maintain true 10-bit color depth. The company claims to be the first to provide color management switch such capabilities. Oppo says it will deliver "an outstanding viewing experience" with "authentic and accurate color reproduction."
Find X3 Pro will be equipped with a 6.7-inch curved OLED display with a resolution of 1440 x 3216 pixels with a density of 525 pixels per inch and an adaptive refresh rate ranging from 10 to 120 Hz. The device is 8 mm thick and weighs 190 g. It is expected to be available in blue and black. A little later, the company may release a white version.
The smartphone will receive a dual-cell 4500 mAh battery, which supports 65W SuperVOOC 2.0 fast charging and 30W VOOC Air wireless charging. It will be equipped with a new dual-antenna NFC module. The smartphone will be preinstalled with Android 11 with ColorOS 11 user interface.
The quad-camera will include two 50-megapixel Sony IMX766 sensors with conventional and ultra-wide-angle lenses. The 13-megapixel camera will provide 2x optical zoom. There will also be a 3MP macro camera, which will provide 25x zoom.
OPPO patents a foldable phone that looks like a Galaxy Z Flip
When the first foldable smartphones appeared in 2019, not everyone was happy with their form factor. The first devices offered an extended tablet experience rather than a truly foldable smartphone experience. In November, Motorola introduced the Moto RAZR with a clamshell-like design and this proved to be a great way to build foldable handsets. While Motorola didn't catch many customers due to the lack of specs to justify the price; Samsung introduced the Galaxy Z Flip in February this year and it's a success.
Gizchina News of the week
The device can be folded and become a flip device from the 2000's era or when unfolded can provide a true smartphone experience. The device still is Samsung's most successful foldable smartphone to date, and for that reason, the flip concept seems to be a way to go for more companies joining the foldable segment. Apparently, Oppo is preparing its own answer to the Galaxy Z Flip.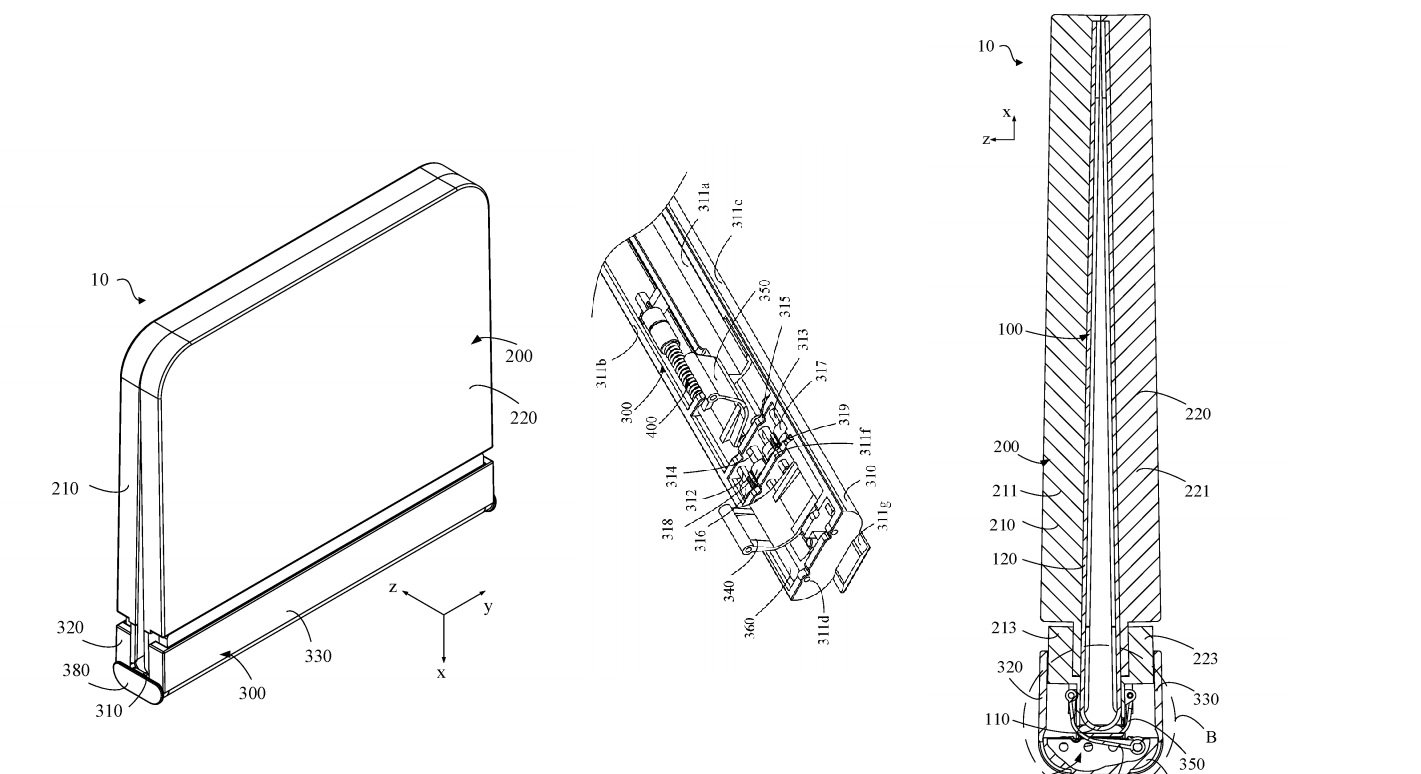 The Chinese giant of technology and a leading company when it comes to innovating products seems to be gearing up to unveil its own clamshell-like foldable smartphone. Oppo has filed a new patent with the World Intellectual Property Organization (WIPO). The patent was approved and published on September 3. According to the documents, the device uses a rotating hinge with gears. It allows the handset to have four different useable angles.
Oppo clamshell-like foldable smartphone comes without an external display
The talented people at LetsGoDigital quickly produced a set of renders based on the patent images. The renders show a curious fact – Oppo's foldable handset does not have a cover display. In other words, once you fold the phone, you can't see who is calling or what notification arrived until you unfold it. The Galaxy Z Flip, for instance, provides a small external display that is useful for these aforementioned scenarios. Despite the lack of an external screen, the Oppo still offers a conventional display when unfolded and a center-aligned punch hole camera. Moreover, judging by the renders the display is quite bezel-less, way more than the Z Flip that has thick bezels on the sides.
The patents don't reveal the number of cameras in this smartphone. Despite this, the renders show a device with three rear cameras. Well, this is on par with the market's current standards. It's hard to see a handset with less than three cameras nowadays in the flagship segment. Except for Pixel devices, of course. Oppo is one of the leading companies in the multi-camera department, so we can expect multiple cameras here as well.
We recommend you to take these patents and renders with a pinch or two of salt. Don't hold your breath for it, after all, the patent filing doesn't are an undeniable proof of a device's existence. Oppo maybe just holding and protecting ideas for use in the future. Of course, we hope that more companies make their entrance in the foldable phone segment. For now, it is under Samsung's belt.