About a month ago, we informed you that Chinese manufacturing giant, Xiaomi, crowdfunded a smart trash can for 199 Yuan ($30). This product is now available for purchase via major and easily accessible online stores. This is a third-party product from Townew but Xiaomi is actively involved in the production and marketing process. This product has a capacity of 15.5L and it comes with a special non-breaking garbage bag. It has a dimension of 33.00 x 28.00 x 43.00 cm and weighs about 3.5Kg this it feels like an average side stool in the home.
The beauty of the Xiaomi smart trash can is that it uses a premium design and also conceals smell such that it can be used in the sitting room, bedroom, kitchen and other parts of the home without any discomfort. Its pure white appearance makes it blend properly with any decor in the house and if you don't tell your visitors that its a trash can, they will definitely not know. The Xiaomi smart trash can automatically open when you move close to it (35 cm sensing distance) but there is a control (lockable cover) which prevents this bin from automatically opening so those little kids can not have access to its contents. In addition, this smart trash can also have built-in LED strips, which have three modes: fade, steady and breath.
Gizchina News of the week
In addition, the Xiaomi smart trash can comes with an automatic sealing and bag changing function, thus you can pack the garbage without having your hands-on and automatically seal the garbage bag, which is convenient. It is not necessary to change the bag manually in one month in an average environmental setting. With its smart functions, we all expect it to come with a battery and it does. The Xiaomi smart trash can comes with a 2000mAh battery which can be used for about 35 days under normal conditions.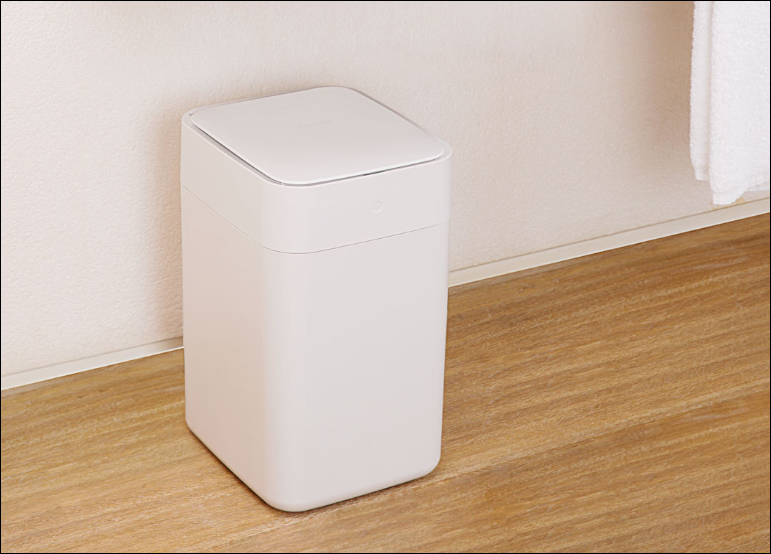 Where To Buy The Xiaomi Townew Smart Trash Can?
The Xiaomi Townew smart trash can is currently available on Gearbest, Geekbuying, AliExpress and Banggood.