Huami is gearing up to bring a new wave of products during the second half of 2020. The company already teased that new products will come this Autumn, among them we expect new Amazfit smartwatches and the very first Amazfit Smart Scale. For now, Huami is preparing terrain and that started yesterday with the change of Amazfit app's name. Now, it is called Zepp in a probably bid to converge the company's Amazfit products with its Zepp sports-tracking products. The new updated Zepp app revealed some of the smart features that are coming with the smart scale as well as its design. The new features are listed under the Enjoy menu.
Weight holding baby
Weighing a baby isn't the easiest and practical tasks if you don't have a baby scale at home. A standard scale requires the person to stand upright, while a baby scale requires the kid to be laid on its back.
There's a possible workaround for weighing a bay using a regular scale. You will stand in the scale with the baby and will subtract your own weight. However, for this, you'll need a very accurate scale that can record your weight to two decimal places. According to the Zepp app, the Amazfit Smart Scale will allow you to weigh your baby in a safe and accurate way. The method is quite similar to the described below. However, the application will do everything alone, you'll just need to insert your info before.
Gizchina News of the week
Balance on one foot
The new smart scale will have a "Balance on One Foot" feature. This is a test used to determine how healthy an individual is. You just need to stand on the scale with one leg with the other bent at a 45-degree angle and your eyes closed. The longer you can stand, the better your balance is.
Guest Mode
The Amazfit Smart Scale also can store multiple user profiles. There's a guest mode where you can conveniently allow a "guest" to make some tests on your scale. This way, the info will not be stored as it is in the profile mode.
Body Composition Scale
Apart from measuring your weight like other smart scales, the Amazfit will provide other health parameters as it is a body composition scale. The tab for the "Balance on One foot" feature states that it's a body composition scale just like the Mi Body Composite Scale. It may be able to determine visceral fat, muscle mass, BMI, bone mass, basal metabolism, and body fat among others.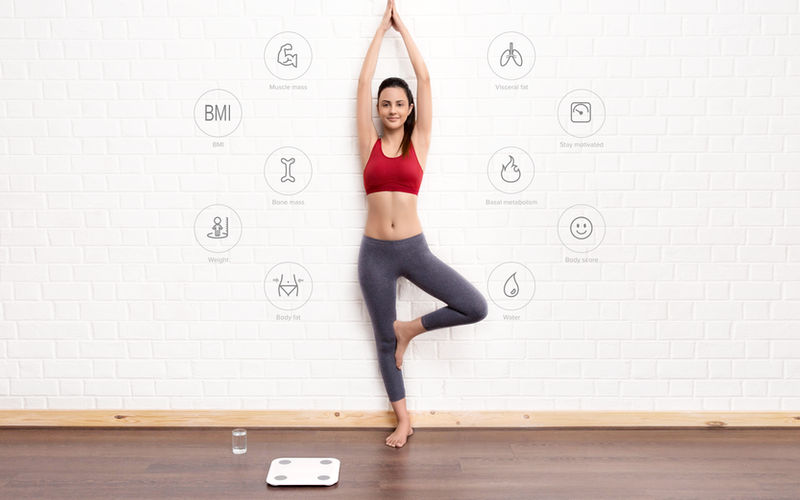 The leaked info states that the smart scale will have a black predominant screen and a dot matrix panel. It will show results in two decimal places.
More details will likely appear the next weeks ahead of Autumn.