The LG V-series will be expanded in the coming years with the following smartphone models: V50, V60, V70, V80 and the V90, according to a series of new brand registrations that have recently been included in the global brand database.
top models of LG phones can be found in the G-series and the V-series. The most recent flagship is the LG V40 ThinQ, this smartphone was unveiled a month ago, as a successor to the V30 that was put on the market a year earlier. In the meantime, LG has made a roadmap for the coming years, according to a series of recent trademark registrations.
LG V50, V60, V70, V80 and V90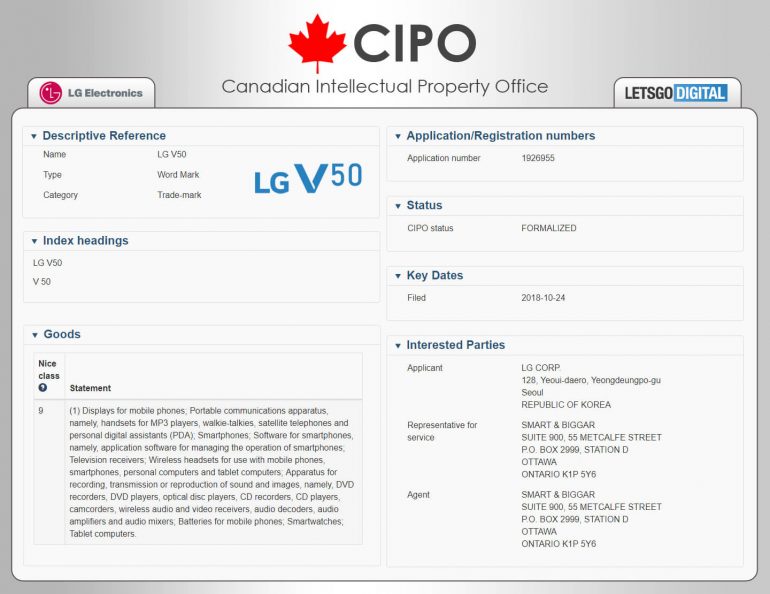 Gizchina News of the week
In Canada at the CIPO (Canadian Intellectual Property Office), LG Corp applied for brand name protection at the end of October 2018 for the following model names: LG V50, LG V60, LG V70, LG V80 and finally the LG V90.
All five trademark applications from LG are classified as Class 9, which includes 'smartphones'. The names seem to speak for themselves.
Future LG V series smartphones
The next flagship within the V-series will most likely be the LG V50 ThinQ. Although it should be mentioned that the Korean company will probably also unveil an LG V45 ThinQ in a few months, just as there was also a V35 ThinQ.
After the LG V50, which will probably be presented around October 2019, logically follows the LG V60, V70 and V80. After which the LG V90 could probably arrive in 2023.