Although this may not seem to be a tech-related review, I really wanted to do it the first time I laid my eyes on this beauty of a gaming chair you're about to see. It's called ANDA Seat Throne (Lightining version) and it's probably one of the most extravagant gaming chairs anyone could buy for him/herself! The specific model I ordered is the one with RGB lights (!), that can be controlled via mobile app and Bluetooth technology, so as you can understand I was VERY eager to have it in my doorstep in just 6 days after the purchase 😉
The guys behind these chairs are a successful Chinese company with a huge community of people around them, promoting their products with the best way possible: by using them like crazy!
The ANDA Seat Throne (Lightining version) is perhaps the most impressive gaming chair of the portfolio, with a maximum user height of 210 cm and maximum weight of 180 kg (!), but surely it's not the only one as you can see below:
The one I got, is – hands down- their most impressive model according to my taste, a beautifully crafted gaming chair designed to fulfill the requirements of even the most demanding and eager gamers.
Basic Package – Instruction manual
The Throne Lightning gaming chair arrived in under 6 days from UK in a massive package that weighed 35Kg (!) – that's heavy! It was carefully packed, protecting its parts from the transport procedure and inside the large box there were all the necessary parts (along with clear instructions) on how to build it.
Nothing serious there, if you have ever built an Ikea arm chair then you will be ready to go with this in under 15 minutes. It's exceptionally well built, from stainless steel back, 5 toes with rollers and premium synthetic leather in dual colors (mine was black with RGB cables).
Everyday use and level of comfort
I have been using Anda Seat's "Throne" for almost a week now and I can say for sure that it will surely cover the needs of most of the gamers out there – albeit there are some caveats. The assembling procedure is quite easy thankfully, and all parts seem to connect firmly with each other.
However the 5 rollers at the bottom of the chair make a metallic noise that could prove quite annoying for some – me included. One more thing I should mention is that the main pillow that comes along with the chair and should be placed on the top – for neck support doesn't fit as it should.
I got in touch with the support of the ANDA Seat company – I MUST mention their AWESOME support/replies -and they clarified that this was a mistake on their part, and that they would send me the correct replacement ASAP.
This specific model assumes the design of a bucket seat and "engulfs" the user, making it practically impossible to bend your back, have aches in the waist, or near the spinal cord. It also comes with a specially designed pillow (the one with the ANDA Seat logo on it), that can be placed at the bottom, in order to support our waist. Unfortunately it doesn't have any elastic bands, so it's quite easy to fall off from its place. This means that some times you must be there, to put it back to its correct place – not what a gamer would like to do all the time.
Even though the 5 rollers of the chair aren't the quitest in the market, they seem to be quite durable. In this type of chairs the wheels are always the first thing that breaks, bends, stops to roll etc, but in this case they seem to be able to withstand a lot of pressure. I also hope it manages to keep up with my working style.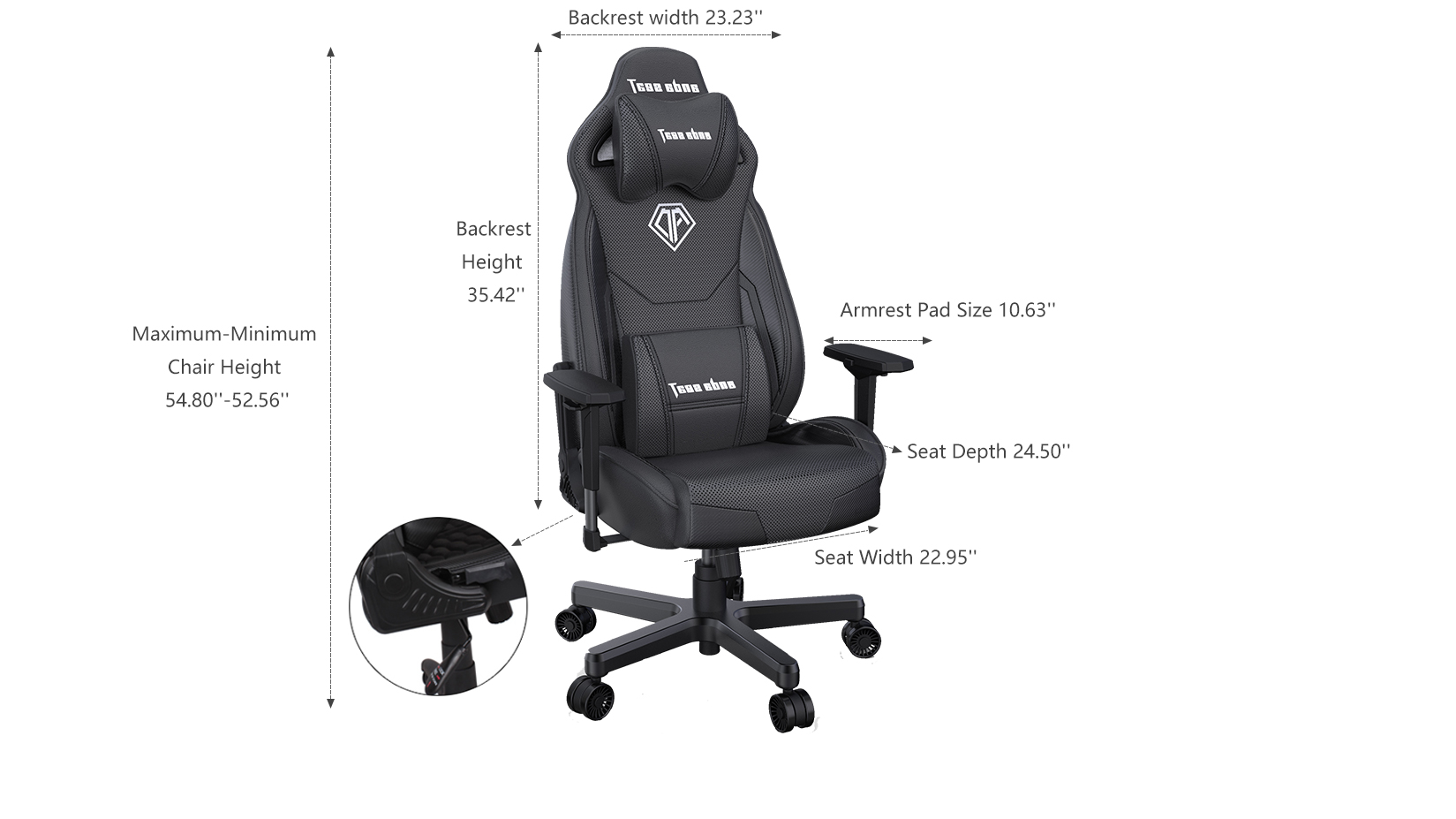 One of the most important features of a chair of this type is the ability to adjust its height and the tilt of its back, and this is where the "Throne" really shines. It comes with two levers placed below the bottom part.
The first is typical: it adjusts the height using a hydraulic suspension enabling us to use it along with higher or lower desks. The second locks/unlocks the back side of the X-Fighter so that it can tilt back if you want to rest, or locks in an upfront position – in case you wish to play your favorite PC game for… several hours. Don't think however, that its features end here. There's also a third lever at the right side, near the bottom part, that adjusts the angle of the inclination of the chair – from upright to… sleep mode!
This gaming chair has also adjustable arm-stands: in height, orientation AND length, in order to accommodate any type of body figure: people with long/short arms, long/short hands etc.
Obviously the design of this specific gaming chair is subjective. Some may like it, others may not. If you think that this is not what you prefer, you have several more design options (as we previously said) that could easily cover your needs.
Lightning Mode – RGB LED
The main reason I bought this chair is – obviously my home setup as you can see. I'm an avid gamer so I have turned my office into anm RGB gallore, so this specific gaming chair was everything I needed. It comes with a Bluetooth hardware at the bottom, along with a power bank slot, so that you can turn on the RGB lights whenever you want.
In order to use the RGB lightning the customer must download the Lotus Lantern app (for iOS and Android), connect the cable with a powerbank (or a USB port from PC, or a USB plug) and then pair with the Bluetooth hardware that's neatly placed below the seat.
The app is quite straightforward to use: you can adjust light color, speed, brightness and create your own lightning patterns; you can also use the phone's mic to make the lights "dance" to the music you listen. The connection is easy to create and the speed is great – however there's one flaw. If you turn off the lights from the app, then the Bluetooth connection is terminated, so if you want to turn them on after – let's say 2-3 hours – you have to remove and reconnect the USB cable, so that the RGB lights activate.
In any case, that's something that could be solved with a future app update – I hope. What matters is that the RGB lights work, their patterns match my Nanoleafs and Yeelights, creating an impressive environment. 😉
Our thoughts
We have a winner here guys, there's no doubt about it. The Anda Seat Throne is a quality gaming chair and surely a treat every PC gamer should give to himself. It offers interesting specs, packed with a solid build – combining stainless steel, RGB lights and high quality leather. Its rollers are a bit noisy however, so this is something that one should live with.
Overall it's quite a buy for anyone who is searching for a durable gaming chair, with impressive appearance. And if you want to see it… shine (!) then turn on the RGB lights during the night!
The Anda Seat Throne (Lightning) gaming chair costs £399.99 and you can buy it from here.
Buy Anda Seat Throne Lightning