The Chinese smartphone manufacturer Xiaomi has patented a unique smartphone, the likes of which are not yet on the market.
Xiaomi patent a smartphone with a built-in wireless headset
The top panel of the device contains compartments for storing completely wireless headphones, while in this state they will be constantly charged.
That is, the manufacturer is working on a solution that will eliminate the use of a charging case, which in theory could be quite convenient. A special feature of the headphones is that the upper part is rotatable. One position is designed to be worn in the ears, and the other is for storage in the smartphone body.
Headphones will be connected via Bluetooth, and a noise cancellation system is also expected, which is becoming more popular and appears even in inexpensive models.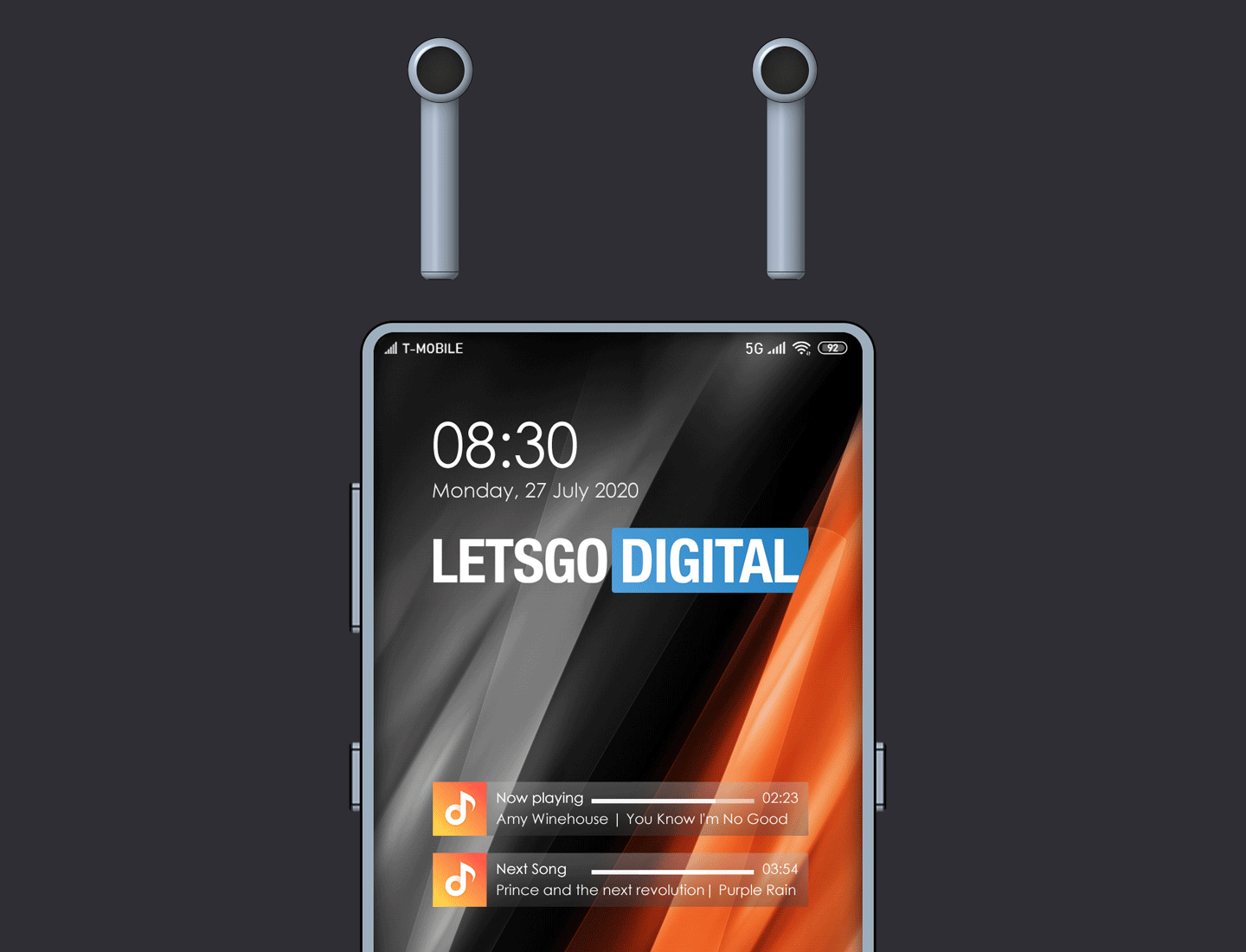 The smartphone makers have always said that modern smartphones are packed so tightly that some people can't even find a place for a standard 3.5 mm jack. I wonder how Xiaomi will cope with such a task.
The images also hint that the smartphone will have a front-facing camera hidden under the surface of the screen.
Xiaomi patents interesting dual-screen curved display smartphone
Innovating new full-screen designs and patenting them seems to be the new hobby for Xiaomi. The previous patent showed a weird but a cool dual-screen waterfall design. Also, there's a huge singular camera with a ring bulging out at the back.
The patent which was first spotted by LetsGoDigital has been published on China's CNIPA recetly. However, Xiaomi seems to have applied for the patent on January 19th this year. 
Interestingly, the patent also includes colored renders of the images. Apart from the Black and White schematics making it to 38 images in total. Talking about the device itself, the full-screen display wraps around the phone similar to the Mi Mix Alpha.
The display doesn't exactly wrap around the entire portion of the rear fuselage. The edge-to-edge screen upfront follows itself only to cover the bottom half of the rear portion. And it shows us both the sides filled with the display and devoid of any buttons.
There is a USB-C port and dual vents which could be for the primary microphone and speaker, or a dual-stereo setup, at the bottom. The top, however, looks to have cut-outs for what looks to be a popup mechanism for the selfie camera and a secondary microphone.
The suspicion arises as we turn ourselves back. Due to the presence of the second screen, we suspect Xiaomi could totally eliminate front camera. And allow users to take selfies from the rear camera by switching to the second screen. This means the top cut-out could also be a power on/off button but we are not sure about it yet.